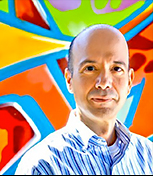 There is nothing scarier in this world than change, because what we are often most afraid of is the unknown. How do you summon the organizational courage to bring about change in light of this?
Today's guest answers this question and explains why this $2 billion dollar nonprofit chose to dramatically change the most important program they had. Rob's guest today is Ivan Gomez. Ivan is the Head of Marketing, Innovation, and Research at World Vision, a nonprofit organization that focuses on humanitarian aid, development, and advocacy. World Vision is active in nearly 100 countries with a total revenue of more than $2 billion. They recently decided to turn everything around in their successful child sponsorship program. Instead of sponsors choosing a child, the child now gets the opportunity to choose their sponsor. This emerged, in part, out of the desire World Vision had to further empower those in extreme poverty. Making a massive change like this comes with many challenges from a marketing standpoint and Ivan's here to tell you how they are navigating those obstacles.
World Vision started out of the struggles of children and refugees that were impacted by the Korean War. Throughout the years, World Vision has been at the forefront of the largest crises around the world, from the Vietnam War to the AIDS crisis. Working alongside these shattered communities, they work to assist people in pulling themselves out of poverty. Their goal is to identify and address the sources of poverty within each community in order to stop these problems at the source.
Links to Resources:
Make a difference at: https://www.worldvision.org/
Keep up with World Vision on Instagram!
If you have questions or want to come on the show, email Rob at: rob@ccofpc.org

Podcast: Play in new window | Download
Subscribe: RSS